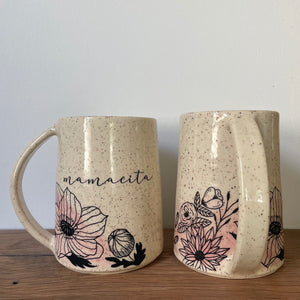 **PLEASE READ**
When checking out, there will be an option to add a note, please use this to write whether you want the "mamacita" to either be facing outward when holding the mug in your right hand, or left hand, or left off the mug entirely. 
Floral design is hand drawn, put into my computer turned into a decal, applied to the glazed mug then fired for a third time.
Mug holds 14 oz 
All items are made with love! You may not get the one pictured, they all slightly vary from one another, but that is the beauty of handmade! If there is a significant difference, I tend to create another listing for the particular piece.