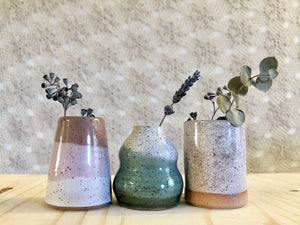 A sweet way to display the little treasures your children pick for you, so it's known just how appreciated they are!
A great Mother's Day gift, baby shower gift or for a new mama!

Sizes vary between about 2 and 3 inches.

•Earth and Empathy Ceramics is all about sustainable shipping, so you may get plastic bubble wrap, you may get paper wrap, but at this time everything is reused packaging, aside from some (recycled) boxes! We urge you to reuse the packaging, recycle it, or find a local small business you can bring it to who can reuse it! Please help us take care of our Mother Earth, we only have one!